A great profile photo adds a personal touch to your tutoring business and can help attract more students. Profile photos are cropped into a circle once you've uploaded them to your profile, so be sure that the photo you choose will look great in a circular shape.

When choosing a photo for your profile listed on Wyzant, you should consider recent pictures of yourself that are in focus and clearly show your face, so that your students will easily recognize you when it's time for your lessons. Photos that don't clearly show a tutor's face won't be accepted. Here's how to upload and manage your profile photos:


In your dashboard, hover your mouse over your name at the top right of the page, then select Profile in the drop-down menu.
Select Photos from the left sidebar menu
Click Choose a File and select a photo to upload.
Click Upload and Crop.
Crop your photo into a circle using the template provided.
Click Save My Cropped Photo


If you'd like to use the photo as your featured profile photo, just check the box marked Make Featured.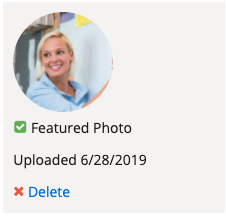 You can change your profile photo, or make edits, at any time, simply by following these steps.