Background checks can be purchased in two ways.
First, a tutor may elect to purchase a background check on their own behalf. Please note that this is not required by Wyzant.
Second, if you find a tutor you want to work with who doesn't have a background check on file, or if you wish to purchase an updated background check on that tutor, you can do so by following these steps.
From the student dashboard, click "My Tutors" found under the "My Account" drop-down menu. This will bring you to the "Tutor Connections" page.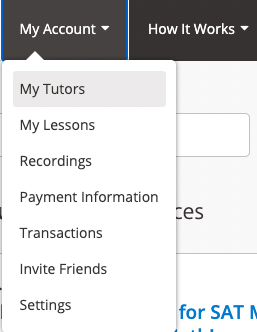 Once on the "Tutor Connections" page, locate the tutor the background check is to be run on and click "Order now" from the "Background Check" column. Please note that you must first exchange messages with the tutor before they are able to purchase a background check on the tutor.

Once you have clicked "Order now", you will be directed to a page that confirms the name of the tutor as well as the cost of the check before they proceed.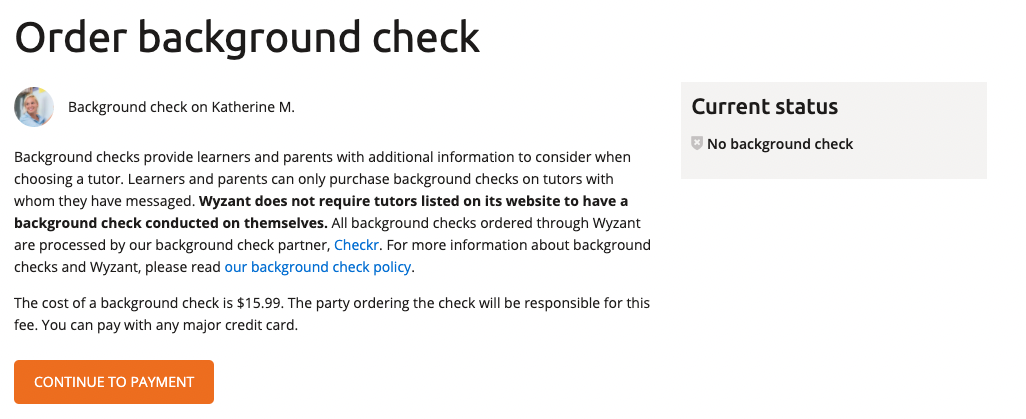 To continue, click "Continue to payment". On this next page, you will be prompted to select an existing method of payment or add a new method of payment to purchase the check.
After the method of payment has been selected, you will be prompted once more to confirm you would like to purchase the check. Once you click "Confirm purchase", the selected method of payment will be billed and the background check will be initiated.

Visit the Background Check Policy page to learn more about background checks.