Go to your Jobs page, located under the My Business dropdown menu at the top of your dashboard. Available jobs contain an orange box called "Apply For Job." Clicking this link will direct you to a page where you can send your application to a student.
From a specific job post, you can use a template, write a personal note to the student, include your subject qualifications and even adjust your hourly rate for that specific student. If you are unable to adjust the rate, that means that you previously were in contact with that student and they will be locked into your rate at the time of your first contact. If that is the case, feel free to submit a Rate Change Request.
Once you have applied to the job you will be able to view that job in the Submitted Applications page located in your tutoring account page. Keep in mind that once an application is sent out, you cannot edit the application.  
To apply to online jobs, click on the "My Travel Radius" option on the left side of the Jobs page. You will see an option for "Online Only Jobs." You can also filter jobs by subject.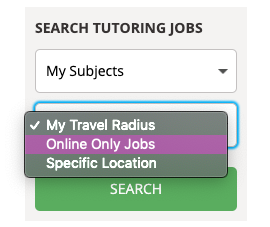 When a student responds to an application, you'll receive an email notification. Try to respond to the student as quickly as possible to help you secure the job, and hopefully confirm an upcoming lesson.