Your Transactions page lists lesson submissions, cancellations, credits, and charges to your payment method, starting with the most recent activity first. You can filter activity in your Transactions table for custom date ranges.
Lessons and cancellation fee submissions appear as lines in your Transaction history. These will have an amount in the Debit column.
You'll see these charges on your payment method reflected in lines that are marked "Purchase." These lines will have numbers in the Credit column.
When you see an amount in the Debit column, it will usually correspond with an amount in the Credit column in a row above it.
This is an example of how it will look in these columns: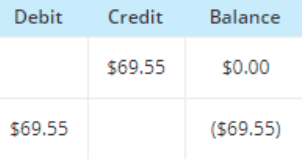 The row on the bottom, with $69.55 in the Debit column, represents a lesson entry into the system. The row above it, with $69.55 in the Credit column, represents a charge on the user's payment method. Because this charge was processed, the student's balance after the charge is at $0.00.
The Date column indicates an item's entry into our system, and might not correspond exactly to a lesson date (which will be noted in the Transaction column).