Below are answers to some frequently asked tutor questions about subjects and the subject approval process.
How can I list a subject to tutor on my profile?
Can I retake a failed subject proficiency quiz?
What are subject-specific titles?
How do I remove a subject from my profile?
How can I list a subject to tutor on my profile?
In order to apply for a job through the platform, the applicable subject must be listed on your profile. To be able to list a subject on your profile, depending on the subject, you will be asked to either complete a brief proficiency quiz or submit your written qualifications for tutoring that subject.
Proficiency Quiz
You will only receive one opportunity to take each quiz, so please make sure you have adequate testing arrangements, including a stable internet connection and a reliable computer. If you feel the need to review the subject, please do so before starting the quiz.
Each quiz has 8-20 multiple choice questions and generally takes no longer than thirty minutes to complete per subject. You will also receive real-time results upon completion. The passing score for each quiz varies by subject; since they are designed to test competency, a perfect score is not necessary for approval.
Once you've passed a subject's proficiency quiz, you may choose to supply additional written qualifications for the subject. This step is not required, as passing a subject quiz immediately grants the ability to list that subject on your profile. Adding your individual qualifications to a subject you are able to list on your profile, however, gives students additional information relating to your knowledge of that subject area, and can definitely help your profile to stand out.
Written Subject Qualifications
Some subjects require written qualifications instead of a proficiency quiz. All written qualifications that you provide are evaluated by Wyzant and can't be substituted with outside qualifications such as copies of your certifications or degrees. Your subject qualifications will be visible on your profile listed on the Wyzant platform and give students key information they need when searching for their perfect tutor.
It's important that the information you provide is grammatically correct and clearly presented. Qualifications should always be written in full-sentence, paragraph format. Resumes and lists are not accepted. Be sure to include details pertaining to your educational background, relevant tutoring, teaching, and professional experience, as well as your methods pertaining to tutoring the subject material. Also, please be sure that each subject qualification you submit contains unique information- multiple subject qualifications with identical information will not be accepted.
To begin, Log in and head to the Subjects page of your account.
Can I retake a failed subject proficiency quiz?
The platform policy is that Tutors are only allowed to take each proficiency quiz once, so we recommend that you be sure to review pertinent subject material prior to starting the quiz.
Unfortunately, mistakes happen and issues arise. If this is the case, please contact our Customer Support Team to determine eligibility for a proficiency quiz reset.
What are subject-specific titles?
When a student conducts a tutor search at Wyzant, results display pertinent subject qualification info aligning with the subject the student searches. For example, if you tutor Spanish and Java, students searching for Spanish tutors will see a title with info about your Spanish expertise, and those searching for Java will see a title relevant to Java.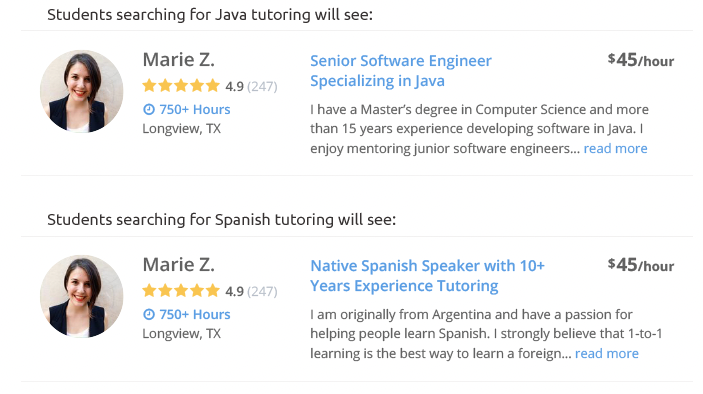 For subject-specific titles to work optimally, it's important to compose titles that are directly related to your experience working with a subject, and showcase your unique ability. In your profile, visit the Subjects page. Click on a subject, and you'll see the following pop-up: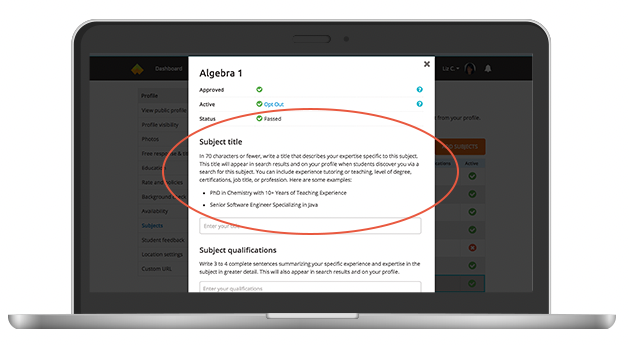 In the first field, compose a title, up to 70 characters, specific to your expertise and qualifications in that subject. You should consider some of the following:
Years of experience teaching or tutoring that subject

Degree(s) related to the subject

Job title, profession, industry

Certifications, licenses, and awards
Here are some examples:
PhD in Chemistry with 10+ Years of Teaching Experience

Senior Software Engineer Specializing in Java

LEED Certified Architect, AutoCAD Instructor

Certified Spanish Teacher with 15+ Years of Experience
Please note that your profile title - what students see when viewing your public profile listed on Wyzant - will remain the same. Subject-specific titles will only appear in search results, and students will never see more than one subject-specific title when performing a search. These titles, and your subject qualifications, will not replace information normally found on your profile, such as your Free Response; they are intended to highlight areas of expertise in order to help students more quickly locate tutors whose experience aligns with their learning goals.
Make sure you're ready and relevant by visiting your Subjects page to get approved in the subjects that match your expertise, submit written qualification info for each subject that gives students more detailed information about your experience and ability to tutor proficiently in a given subject and compose your subject-specific titles.
How do I remove a subject from my profile?
Your approved subjects are displayed on your public profile. If you're no longer interested in tutoring in a subject, it can easily be hidden by following these steps:
On your dashboard page, hover your mouse over your name in the top right corner of the page, then select Profile from the drop-down menu.

Select Subjects from the left sidebar menu.

A list of your approved subjects, as well as those you've expressed interest in tutoring, are displayed in a table to the left of the page. The rightmost column in the table, named Active, will display a green checkmark for each subject currently displayed on your public profile. Click the name of the subject you'd like to hide.

When clicked, the subject name will appear to the right of the subjects table, with additional information below. Click the words "Opt Out" next to the green checkmark to toggle the subject off. This will hide the subject and any qualifications you've submitted for it from your public profile.
Opting out of a subject will also prevent your profile from appearing in searches for that subject. If you'd like to include the subject on your profile in the future, just follow these steps, and click Opt Back In.