A new student request is the first message a new student sends you after they've searched for tutors on Wyzant. You will receive an email letting you know that a new student messaged you, and then you will have 24 hours to accept or reject the student's request. You'll also receive a push notification via the Wyzant app if you have enabled the feature.

When you reject a student's request, you will be presented with several options to let us know why you're unavailable to help the student.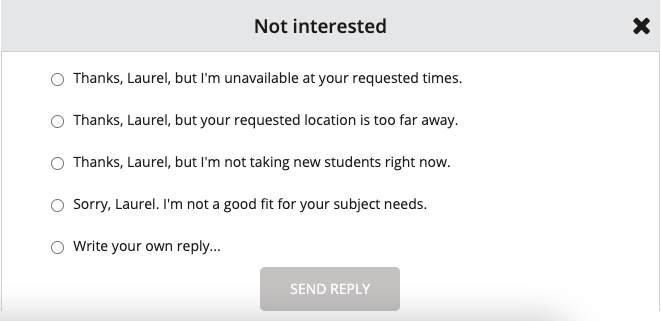 Please know that you may receive an email from Wyzant depending on which option you choose. For example, if you select the "I'm not taking new students right now" option, you will receive an email with information about how to hide your public profile. If you do not want to receive an information email from Wyzant, simply choose the "Write your own reply..." option.
If you reject a student request for any reason, it will lock the message thread on the student's side. For that reason, if you're unsure whether you are a good fit for the student, we recommend accepting the student's request and then asking some follow-up questions. That way, the student will have the option to answer your questions.
If you believe the student's request is spam, please select the "Mark as spam" option that is present before you accept or reject a student request.
For answers to more frequently asked questions about new student requests, feel free to check out this article.