With Wyzant Messages, it's super easy to stay in contact with all of your tutors. Below we will dissect the Messages page and explain some of its features.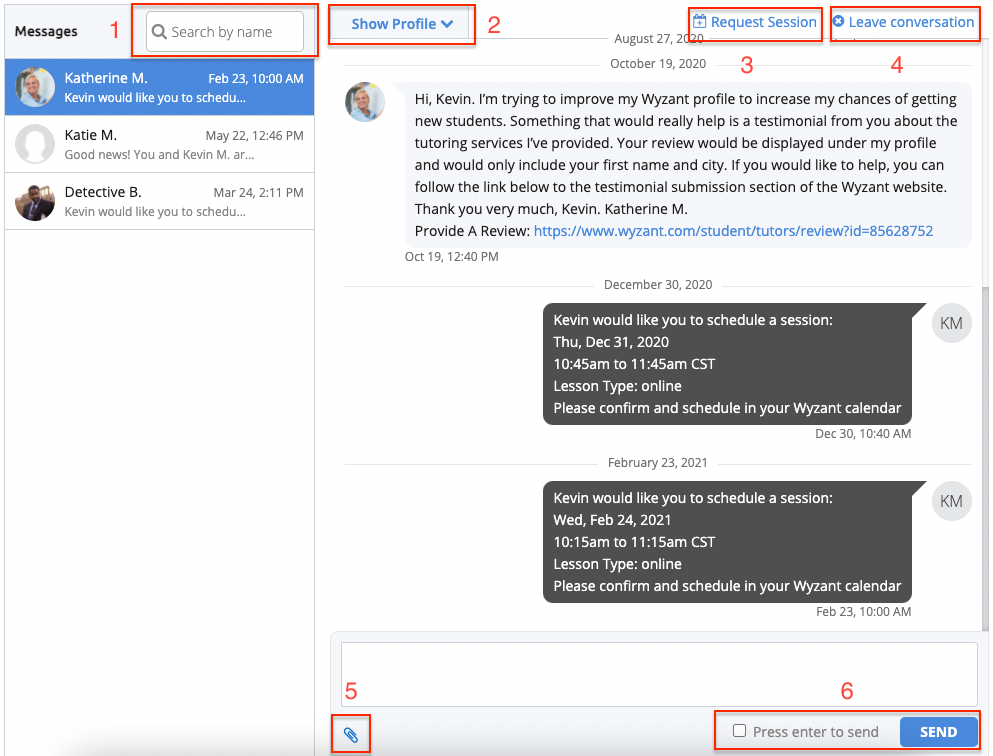 In this "Search by name" field, you can search for any tutor with whom you've already exchanged messages. Simply start typing in this field and click on the tutor's name when it appears. That will take you directly to a thread with all of your previous messages exchanged with that tutor.
Above each message thread, you will notice this "Show Profile" section. If you click on that, a drop-down window will appear with some basic information about your tutor like their bio, availability, and their hourly rate.
Clicking on "Request Session" will prompt a modal to pop up that will allow you to request a lesson directly from that message thread. You will be asked to fill in the date and time of the scheduled lesson. Once the tutor confirms the lesson, you will receive an email letting you know a lesson has been scheduled.
Clicking on "Leave conversation" will remove the thread with that tutor from your Messages page. Once you leave a conversation, you will have to search for the tutor in order to see the thread again. This is a nice way to clean up your list of messages so that only your current and new tutors appear on the left-hand side.
This section at the bottom of the thread allows you to attach and send files and attachments to your tutor. This is a great way to share course material, homework problems or anything else that would help your tutor help you!
This section allows you to control whether pressing "enter" on your keyboard sends the message. We don't recommend checking this box if you plan to write a message with line breaks.